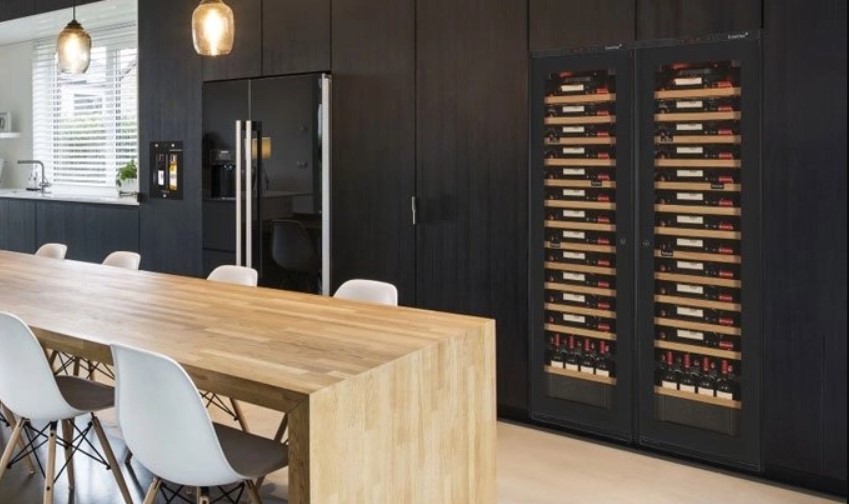 There has been confusion between built-in wine fridges and integrated ones. Both are awesome for keeping wines at optimum temperatures and require careful measurements and sufficient space. Built-in wine coolers are different in that their front sections are visible. The cooling area is neatly inside a cabinet, and the door gives an unobstructed view. This look is particularly effective in a sleek, modern kitchen. Integrated fridges differ as the entire fridge is inside a cabinet. This look is best suited to kitchens with existing cabinetry where it can seamlessly blend in. A wine fridge is an excellent addition to any home, and knowing if you can integrate one easily is a relevant consideration. Winecoolershop.co.uk have an extensive wine fridge range, of which most will be very suitable for integration. Before cluttering your search history with terms like wine fridge integrated, choose the cabinet and take measurements.
Wine fridge measurements
The cabinet size and the wine fridge size must correlate. Built-in coolers need space around the unit to ensure adequate airflow, but these vary between brands. Note any parts of the design that protrude as these can be annoying, thigh-bruising hazards in a busy area. A fully integrated wine fridge must fit into your cabinet seamlessly. Ventilation space is still vital, as is the access to power. If you want to integrate a free-standing fridge, the position of the vents will make a difference when readying the cabinet. An often overlooked point is ensuring the cabinet door can still close flush with the fridge inside. Equally important is ensuring that the fridge door can open fully as well. Drip trays also need to be easily accessed, so ensure you leave enough room for yourself. Select your final position with care because the location is all-important.
Where to Place Your Integrated Fridge
A kitchen is an excellent option for integrated fridges, making entertaining easy. Once you have decided on the lucky cabinet, confirm that it is not close to any heat source. Installing your fridge next to your oven would have bad results. Avoid direct sunlight for the same reason. Online planning tools help decide between the built-in look and the discreetly integrated one. These allow you to explore the aesthetics before committing time, money and a cabinet to your project. You can use a free-standing fridge or one designed to be built-in and  DIY your integrated unit. There are many online resources showcasing others who have gone this route. Although, there are also forums where people wholeheartedly recommend getting a professional to do the work. Usually, these are people whose tools or knowledge had let them down. Either way, a wine fridge is an asset to your home and wine collection.
The Rise of the Wine Fridge
The wine cooler market will grow exponentially in the next decade. Estate agents report that homes with wine fridges sell for higher prices. Besides the potential future profit, enjoy your wine collection at the ideal temperature. Wine sales are growing globally, and wine fridge sales reflect this. Join the world as it embraces the love of wine in your own home. Salud!
Related Posts